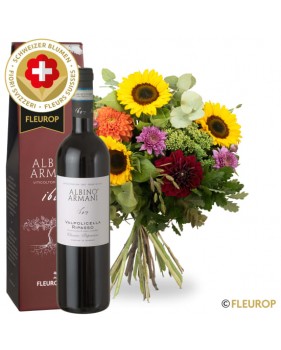  
Autumn bouquet with Swiss flowers and Ripasso
P.S.: The floral message is accompanied by a leaflet informing the recipient that the bouquet contains only Swiss flowers, and is paired with an excellent bottle of Albino Armani's Valpolicella Ripasso Classico Superiore DOC (75 cl), elegantly gift-wrapped.

Produced in the hilly and mountainous region of Valpolicella, our Ripasso seduces with its structure and complexity. The young red wine acquires these qualities during a second fermentation on Amarone marc. This excellent red wine is produced in Marano by the Armani family, who have over 400 years' experience in winegrowing. Ripasso captivates with its intense red colour and aroma. It goes perfectly with tasty starters, meats and mature cheeses.

Vol. alcohol 14
Variants and prices       
CHF 105.90
Product customisation
Don't forget to save your customization to be able to add to cart
Give the gift of an autumn bouquet in the most beautiful colours. A gift that will win everyone's hearts with its natural character.

Please note that only the flowers are Swiss-produced and that the greenery may also come from foreign producers.
Bouquet d'automne avec des fleurs suisses et Ripasso
No customer reviews for the moment.
16 other products in the same category: